Pricing of Plastidip vs. Emblem Overlays
Blacking Out Automotive Emblems? Forget Plastdip! Check out Nox Lux's simple emblem overlay solution!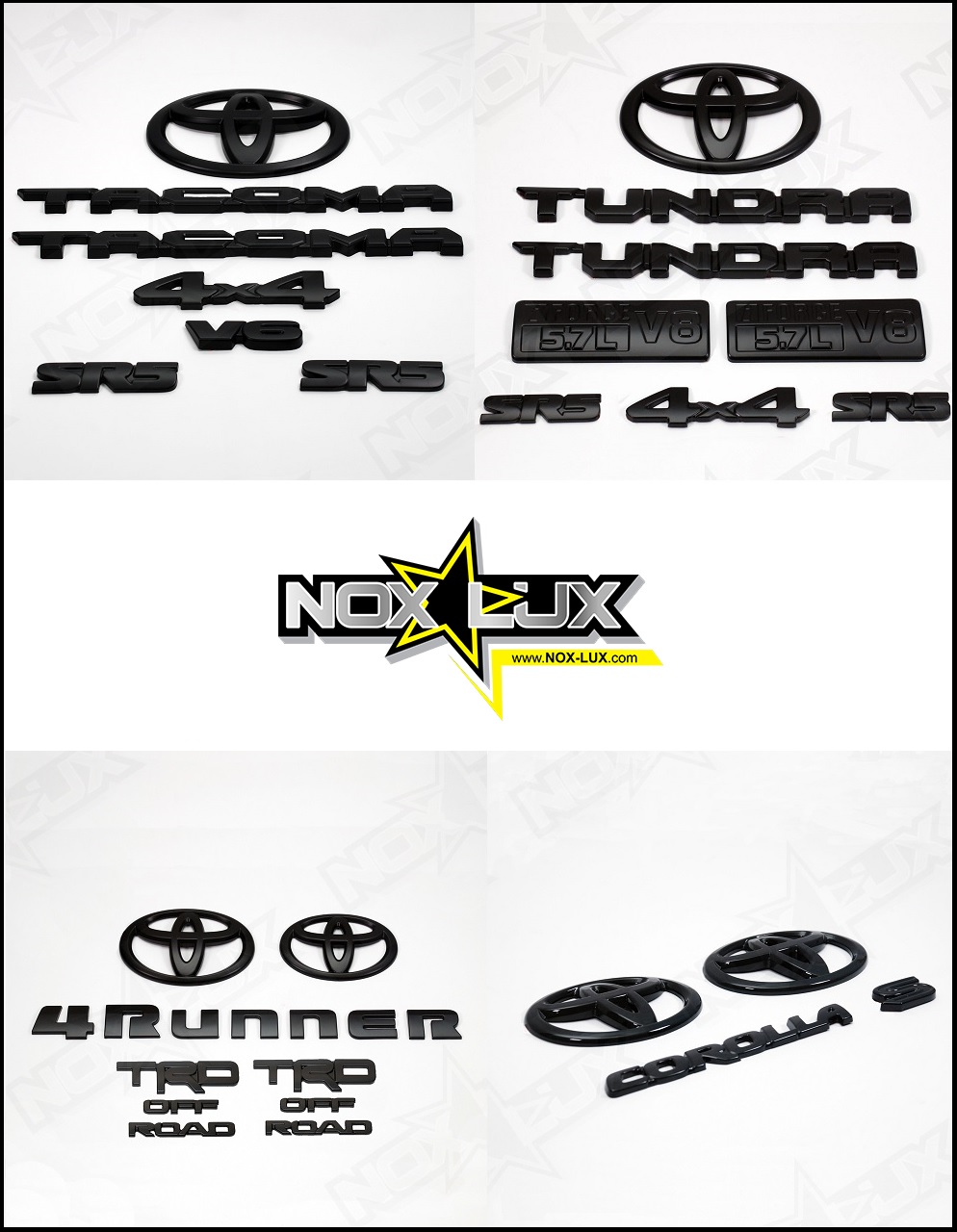 Why waste your precious time and money prepping and installing plasti-dip only to have to return months later to redo the plasti-dip over your emblems….Why waste countless of hours and your hard earned money on plasti-dipping and re-plastidipping your rig or ride? Stop being cheap and buy yourself a precision engineered Toyota black out emblem overlay kit.
Ok, we get it. Why in the world would anyone pay $100+ for some little pieces of cheap plastic to simply cover their factory emblems?
The reality of this question is the fact that our black out overlay kits are not made from cheap plastic, but are in fact made of ABS a.k.a.- Acrylonitrile butadiene styrene, a thermoplastic polymer used in a large range of applications, such as in a jet fighters cockpit.
Different types of plastics – High Impact Polystyrene (HIPS). ABS, Polystyrene, polypropylene plastic
Read more about ABS plastic and it's features and benefits when compared to other plastic materials-
https://en.wikipedia.org/wiki/Thermoplastic
What is ABS Thermoform Plastic?
ABS is derived from acrylonitrile, butadiene, and styrene. Acrylonitrile is a synthetic monomer produced from propylene and ammonia; butadiene is a petroleum hydrocarbon obtained from the C4 fraction of steam cracking; styrene monomer is made by dehydrogenation of ethyl benzene — a hydrocarbon obtained in the reaction of ethylene and benzene.
ABS combines the strength and rigidity of acrylonitrile and styrene polymers with the toughness of polybutadiene rubber.
While the cost of producing ABS is roughly twice the cost of producing polystyrene, it is considered superior for its hardness, gloss, toughness, and electrical insulation properties.
"According to the European plastic trade association PlasticsEurope, industrial production of 1 kg (2.2 lb) of ABS resin in Europe uses an average of 95.34 MJ (26.48 kW·h) and is derived from natural gas and petroleum". Source:
https://en.wikipedia.org/wiki/Acrylonitrile_butadiene_styrene

What is Thermoforming?
Thermoforming is a manufacturing process where a plastic sheet is heated to a pliable forming temperature, formed to a specific shape in a mold, and trimmed to create a usable product.
https://en.wikipedia.org/wiki/Thermoforming
What is the difference between thermoforming and vacuum forming?
Vacuum forming is a type of thermoforming; both processes require heating plastic to a malleable temperature and then cooling the plastic into a new form. Vacuum forming is an additional process during thermoforming in which vacuum pressure is used to fit plastic tighter to the mold during forming.
https://en.wikipedia.org/wiki/Vacuum_forming
We understand the black out kits are a little pricey but there is solid reasoning behind the price point. Nox Lux Black Out Kits are in fact precision made to meet or exceed OEM standards. Our parent company provides these black out emblem kits directly to OE side of industry, we are the retail arm, a subsidiary branch of said company.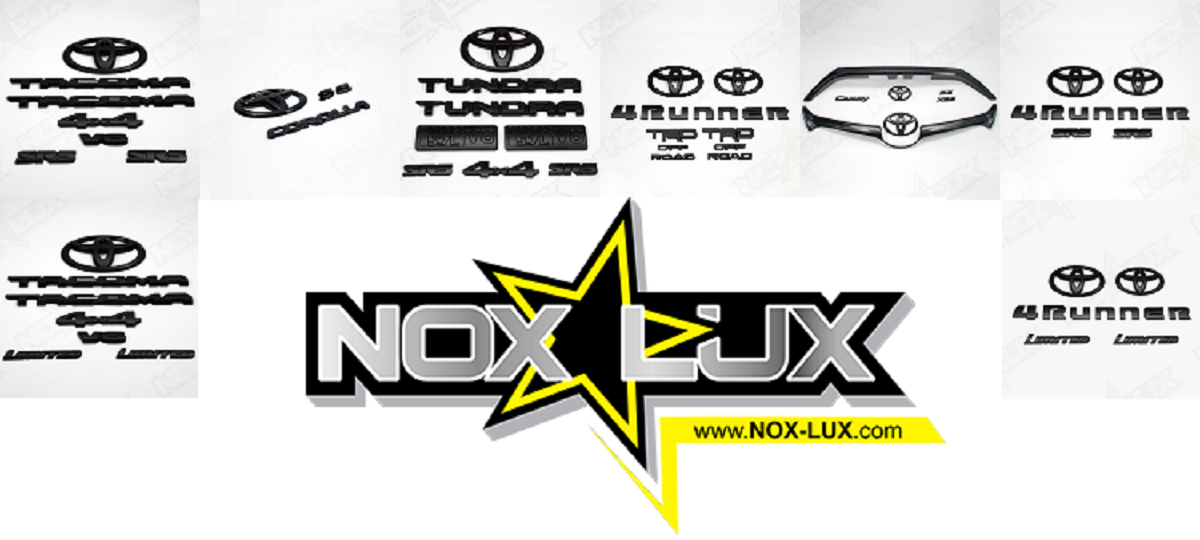 Plastidip vs. Emblem Overlays-
The time savings in installation (and re-installation) when compared to plastidip is priceless… With plastidip you have to spend several hours prepping and spraying, make a huge mess, only to have it peel off shortly thereafter. This product installs in minutes. You simply clean your stock Jeep emblems first. Dry fit all pieces, then come back and peel off the red layer of protective tape that covers INDUSTRIAL grade, double sided 3m adhesive tape. Press each letter firmly onto the stock emblem one at a time. BOOM, your done!
The emblem overlays are not made from cheap plastic or vinyl, they are made from ABS thermoform plastic, the same materials used in jet fighter cockpits. Translating into, they are as rough and rugged as the Jeep that you are installing them on.
These kits are vacuum thermoformed over an extremely expensive reverse mold. They are then precision trimmed for variances in the thousandths of an inch, and quality checked numerous times over.
A bit of history behind the project… We started selling the TRD emblem overlays in the middle of 2017 at $69 for letters only, and $159 for the complete 15 pc. 4Runner TRD offroad kit as there was a high demand for it. Unfortunately, that tooling was extremely difficult as these letters are very tiny, and took up a lot of time in trial and error.
This is the reason why you do not see many of these kits out from other competitors. They are expensive to make and even harder to produce as a high quality product in volume. Our black out kits are meant to be a quick and simple solution to the repetitive plasti-dipping process, as well as, a quicker, simpler, less risky solution to de-badging OE emblems and replacing with genuine BLACK OE emblems. It also seems to us dealerships prefer our solution to the latter as it is quick and simple compared to replacing stock badges with new black OE badges.
We hope this helps with a little understanding in the matter of the pricing of our kits.
For more information on Nox Lux's black out emblem overlay kits, please visit-
https://nox-lux.com/product-category/emblem-overlays/
Cheers!
The Nox Lux Team
About Nox Lux-
Premier Designer, Developer, Manufacturer, and Retailer of High quality, aftermarket, Offroad LED Light Bars, Off-road LED lights, Black Out Emblem Overlay Kits for Toyota's and Jeep's, Tailgate Inserts, Running Boards, Skid plates, plus much more.
https://nox-lux.com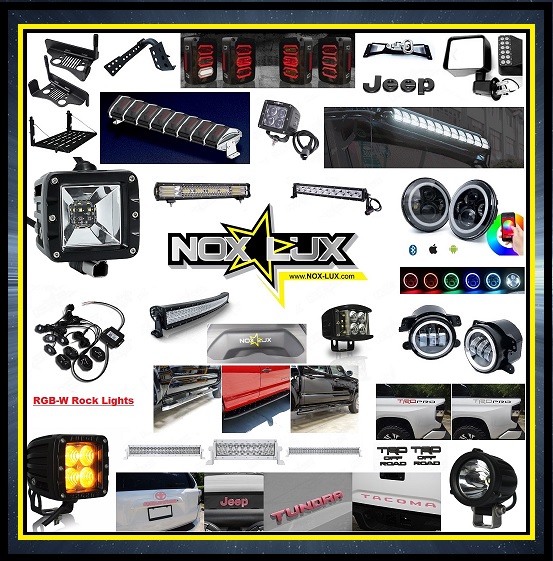 About Author