$199.99
30 Watts
1440 Lumens
350 Meter Beam Throw
In stock
Email to a friend
Quantity Discounts:
$25 off on 2 pair
Discount Shown in Customer Cart
Description
Performance Grade, High Powered, LED Fog Lights for Jeeps!
Are you looking to upgrade your Jeep Wrangler or Jeep Grand Cherokee with some extra auxiliary LED Fog lights?
!!!WARNING!!! If you are looking for a generic and extremely cheap LED fog light for your Jeep, please be advised, we do not carry those and you may want to head over to Ebay or Amazon for the bargain basement, toy like quality, Jeep LED fog lights that will more than likely leave you stranded in the dark when you need them the most. 😉
All of our off-road LED lighting products are the cream of the crop, cutting edge, rugged as hell, will run continuously for over 50,000+ hours or the equivalent of 5 years, most are hand crafted to exceed Military spec, all are IP67 and IP68 rated (most also carry the highly coveted IP69k Rating), and all of our off-road LED lights even come with a 2 year manufacturer warranty!
Do yourself a favor before you buy any LED Fog lighting system for your Jeep; compare Jeep LED fog lights from several different reputable off road LED light retailers while paying strict attention to the specs, prices, verified ratings, product reviews, etc.
Once again, THESE ARE PERFORMANCE GRADE Jeep LED Fog Lights! Not to be confused with the cheap LED lights found on Ebay, Amazon, and a large number of other offroad LED lighting retailers! Compare our off-road Jeep LED lighting systems and find out for yourself. You get twice the light for half the price of the big brand names.
Illuminate Your Next Excursion At Light Speed With Nox Lux's Hyper Performance Off-road LED Lights!
Features
50,000+ Hour Lifespan

5+ Years of Continuous Use
Aluminum Housing

6063 Heavy-Duty Die Cast Aluminum Housing

IP68

Protection Against Dust & High Pressure Water

2 Year Limited Warranty

Against Manufacturing Defects
Our Jeep LED Fog Lights Are Compatible With These Vehicles:
2007-2014 Jeep Wrangler
2011-2012 Jeep Grand Cherokee
2009-2012 Dodge Journey
2005-2008 Dodge Magnum
2006-2010 PT Cruiser
2011-2012 Dodge Charger
2005 Chrysler 300
Specifications
LED Fog Light

Beam Pattern
Fog
Beam Angle
40~60 degrees
Lumens
1440
Beam Throw
Fog:
LED Type
CREE XTE
LED Quantity
6 LEDs
LED Wattage
5 Watts
Wattage
30 Watts
Current Draw
1.2 Amps
Operating Voltage
9~36 VDC
Color Temperature
6000-6500 K
Finish
Black
Material
Aluminum
Water Resistance
Waterproof IP69K
Weight
1 lb* each
Wire Length
~20 Inches
Standards And Certifications
Multiple

Wiring Harness

Connector Type
Deutsch DT
Length
~60 Inches
Fuse
5 amp
Relay
JD1912/12VDC | 40A/14VDC
Switch
LED Rocker
Weight
9.3 oz
Package Dimensions: 10″ x 7″ x 6″ in.
Package Weight: 2 lbs*

All specifications are subject to change without notice.
Dimensional Drawings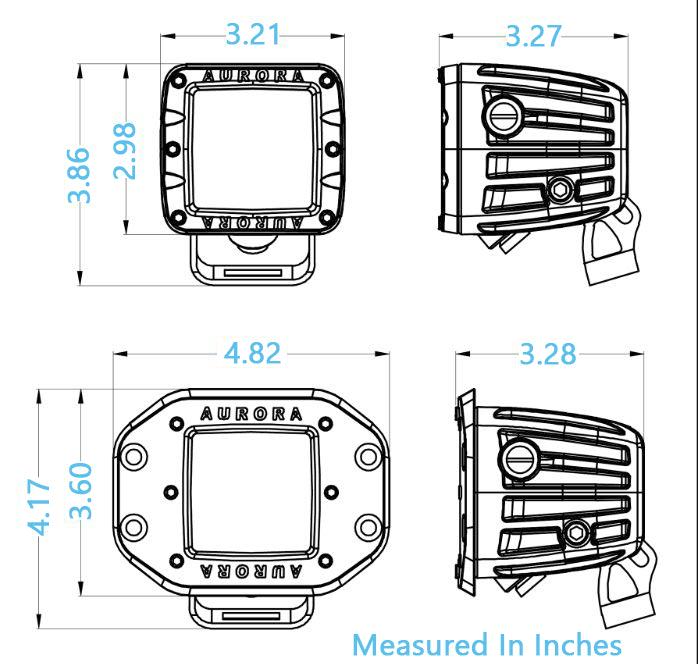 Media
Aurora Product Testing Video: