$89.99
40 Watts
2880 Lumens
27.5 Meter Beam Throw
In stock
Email to a friend
Quantity Discounts:
$5 off 2 | $15 off 4 | $35 off 8
Discount Shown in Customer Cart
Description
Our LED Pod/Cube Scene Lights Work Great As A Pair!
Nox Lux's new Scene LED Lights and LED light Bars use a unique optic lens and LED arrangement by incorporating 4 high powered CREE 10 watt LEDs in a precise pattern inside of one large mirror finish reflector. This break-through off-road LED light design allows for an extremely intense wide light pattern of 120 degrees both vertically and horizontally, offering one of the best options for people who need a tremendous amount of additional light while driving in the dark. This new design offers an astounding lumen output when compared to similar products that use the same number of LEDs in a standard LED light bar configuration. This alone makes our offroad LED scene lights the perfect fit for snow plows, for farm tractors and farm equipment, tow truck drivers, RV's, boats, etc.
Our Off-road LED scene lights are available in 2″ LED pod cubes, 10″ LED light bars, 20″ LED light bars, 30″ LED light bars, 40″ LED light bars, and 50″ LED light bars.
Illuminate Your Next Excursion At The Speed Of Light With Nox Lux's Premium Off-road LED scene pod lights and light bars!
Features
50,000+ Hour Lifespan

5+ Years of Continuous Use

Aluminum Housing

6063 Heavy-Duty Die Cast Aluminum Housing

IP68-IP69K

Protection Against Dust & High Pressure Water

2 Year Limited Warranty

Against Manufacturing Defects
Dual Oversized Heat Sink

Double Area of Heat Dissipation

DuPont

Black Powder Coat UV Resistant Painting Technology

GE Lexan

100% Optically Clear Polycarbonate Lens

Aurora Patent Gore Breather

Military Standard Protective Vent

Deutsch

Sealed Waterproof DT Connector

316 Stainless Steel Screws
Applications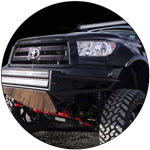 Off Road
Jeeps, UTVs, ATVs, Snowmobiles, Golf Carts, 4 Wheelers.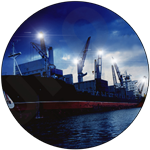 Marine
Boats, Jet Skis, Freight Liners, Yachts, Fishing Vessels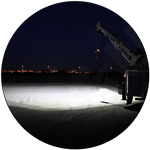 Work Sites
Construction, Road Work, Towing, Snow Plowing, Paving, Sewage Draining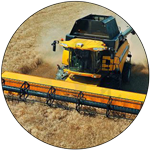 Agriculture
Tractors, Lawn Mowers, Plows.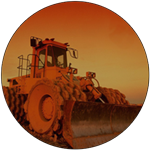 Heavy Machine
Bulldozers, Backhoes, Dump Trucks, Wrecking Balls, Mining Equipment
Specifications
LED Pod Light

Beam Pattern
Scene
Beam Angle
Scene: 120 degrees
Lumens
2880
Beam Throw
Scenic: 27.5 Meters
LED Type
CREE XMK
LED Quantity
4 LEDs
LED Wattage
10 Watts
Wattage
40 Watts
Current Draw
2.3 Amps
Operating Voltage
9~36 VDC
Color Temperature
6000-6500 K
Finish
Black
Material
Aluminum
Water Resistance
Waterproof IP69K
Weight
1 lb 8 oz*
Wire Length
~20 Inches
Standards And Certifications
Multiple

Wiring Harness

Connector Type
Deutsch DT
Length
~60 Inches
Fuse
5 amp
Relay
JD1912/12VDC | 40A/14VDC
Switch
LED Rocker
Weight
9.3 oz
Package Dimensions: 7″ x 6″ x 6″ in.
Package Weight: 2 lbs 5 oz*

All specifications are subject to change without notice.
Dimensional Drawings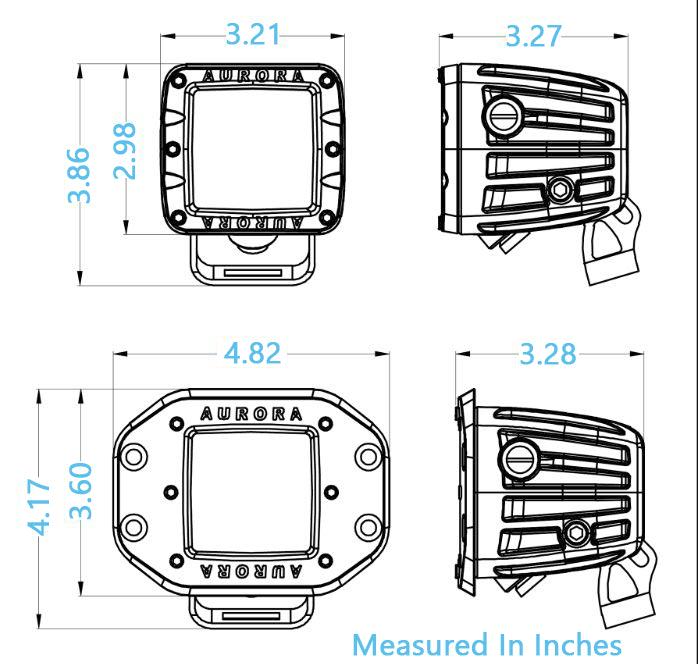 What's In The Box?
One Light Unit
Waterproof Connector Switch
Relay
Fuse and Fuse holder
Wiring Harness with the above totally connected and ready for installation
Mounting Hardware (Mounts)
Mounting Nuts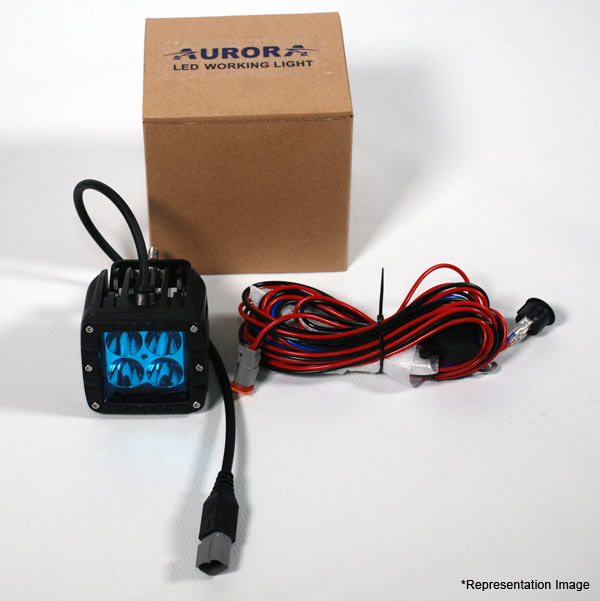 Media
Aurora Product Testing Video: