16 Million Color Choices + True White
Blue Tooth Connection
Control With iOS or Android Device
Gradual Change
Voice Control
Control By Music
No Coupon Codes Offered For This Product
48 in stock
Email to a friend
Description
Rule the road with the newest in off-road LED technology- NEW Wireless Control 2″ Mini RGB-White LED Rock Light Kits by Nox Lux!
Are you looking for high quality automotive LED lights to use in, on, or under your car, SUV, truck, and/or off-road 4×4 vehicle? How about being able to use your smartphone to be able to control those same LED lights?

Nox Lux Wireless Control 2″ Mini RGB-White LED Rock Crawl Light Kit can be used in a wide range of applications and in/on many different areas of your vehicle. This exclusive bluetooth enabled wireless LED kit allows you to have full control over the LED light colors, speed of LED's, the LED light sequences(Disco, strobe, fade in and out, mono and multi color, jump), light ambience and warmness, LED lights work in collaboration with music, factory and user defined custom settings, match any color with your phone's camera to be used with the auto LED light system, back up control switch, extra long wires, newer style waterproof connectors, and you can even use your voice to control the entire Wireless Control 2″ Mini RGB-White LED Rock Crawl Light Kit.
Illuminate Your Next Excursion At Light Speed With Nox Lux's Hyper Performance Off-road Mini RGB-W LED Rock Lights!
Nox Lux RGB-White Rock Light Kit Features
50,000+ Hour Lifespan

5+ Years of Continuous Use

Aluminum Housing

6063 Heavy-Duty Die Cast Aluminum Housing

2 Year Limited Warranty

Against Manufacturing Defects
Dual Oversized Heat Sink

Double Area of Heat Dissipation

DuPont

Black Powder Coat UV Resistant Painting Technology

316 Stainless Steel Screws

Deutsch

Sealed Waterproof DT Connector

Unbreakable Glass

Optically Clear Polycarbonate Lens

IP68

Protection Against Dust & Water Submission
Specifications
Mini RGBW Rock Light Kit

Beam Pattern
Ambient
Beam Angle
150 Degrees
Lumens
650 each pod
Beam Throw
Ambient
LED Type
Cree RGBW LEDs
LED Quantity
3 LEDs(per pod)
LED Wattage
9 Watts
Wattage
3 Watts(per pod)
Color Temperature
RGBW
Operating Voltage
9~36 VDC
Material
Aluminum
Finish
Powder Coat Black
Weight
231 Grams Each Pod(includes 1 pack of installing accessories)
Water Resistance
Waterproof IP68
Wire Length
3.5 Meters

Control Box

Connector Type
Water Proof Connector
Length
To Battery: 43cm
To Pods: 30cm
8 Pod Package Dimensions: 14.6″ x 5.3″ x 5.6″ in.
Package Weight: 5.3 lbs

All specifications are subject to change without notice.
Dimensional Drawings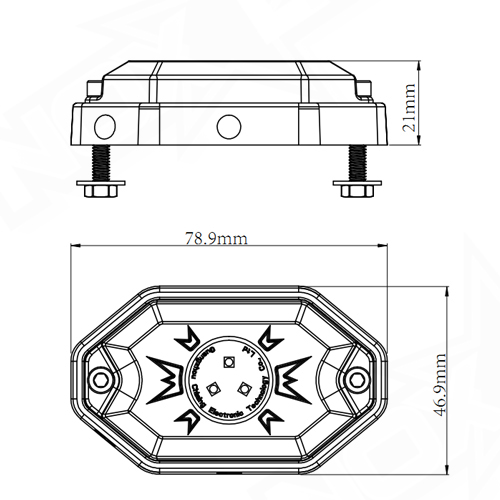 What's In The Box?
8 Pod Kit:
8 Light Units
One(1) Control Box
Eight(8) Rubber Pads For Mounting
Installation Screw Set
Instructions For Downloading App