Nox Lux Introduces New Line of Aftermarket Brake Caliper Covers for Jeep JK/JL and Toyota 4-Runner, Toyota Tacoma, Toyota Tundra.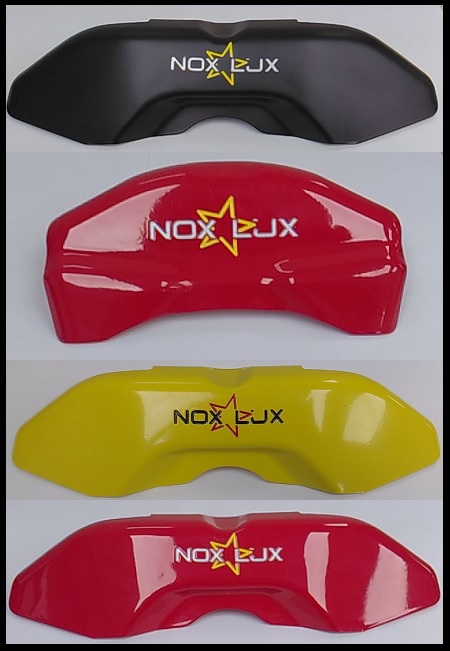 Premier lifestyle automotive and off-road accessories company, Nox Lux, recently announced the addition of aftermarket brake caliper covers for Jeep Wrangler JKs / JLs, 2005-2018 Toyota Tacoma, 2007-2018 Toyota Tundra, 2010-2018 Toyota 4-Runner.
Nox Lux, a subsidiary company of Maxton Group, executes aggressive yet strategic market expansion plan; adds next new product line- Aftermarket brake caliper covers for Jeeps and Toyotas.
Some of Nox Lux's recent market efforts, product developments, and accolades include- the recent acquisition of and merging with Mud Life LED, incorporation of sponsorship ops, event marketing, development of new Nox Lux high performance off-road LED lighting systems, new lines of "black out" emblem overlays for newer model Toyotas and Jeeps, Toyota Tundra TRD Pro bed inserts, the launch of "new to market" dynamic Jeep LED grille kits-"The Kinetic", a complete new line of Jeep mods and accessories and Jeep specific LED lighting, and now Nox Lux's latest product release-
Aftermarket brake caliper covers for Toyota Tundras, Toyota 4Runners, Toyota Tacomas, and Jeep Wrangler JKs/JLUs.
Toyota 4-Runner Brake Caliper Covers-
https://nox-lux.com/product-category/caliper-covers/4-runner-caliper-covers/
Toyota Tacoma Brake Caliper Covers-
https://nox-lux.com/product-category/caliper-covers/tacoma-caliper-covers/
Toyota Tundra Brake Caliper Covers-
https://nox-lux.com/product-category/caliper-covers/tundra-caliper-covers/
Jeep Wrangler JK Brake Caliper Covers-
https://nox-lux.com/product-category/caliper-covers/jeep-jk-caliper-covers/
Jeep Wrangler JL Brake Caliper Covers-
https://nox-lux.com/product-category/caliper-covers/jeep-jl-caliper-covers/
About Nox Lux-
Nox Lux, a cutting edge supplier of high tech, performance grade, on and off-road LED lighting systems and auto accessories for the Automotive, Off Road, Maritime, Agricultural, Commercial, and Industrial markets. Precision engineered, meticulously hand-crafted to the highest of manufacturing standards, built with the latest state of the art technologies, materials, and components. https://Nox-Lux.com