Different Types of Off-road LED Light Beam Configurations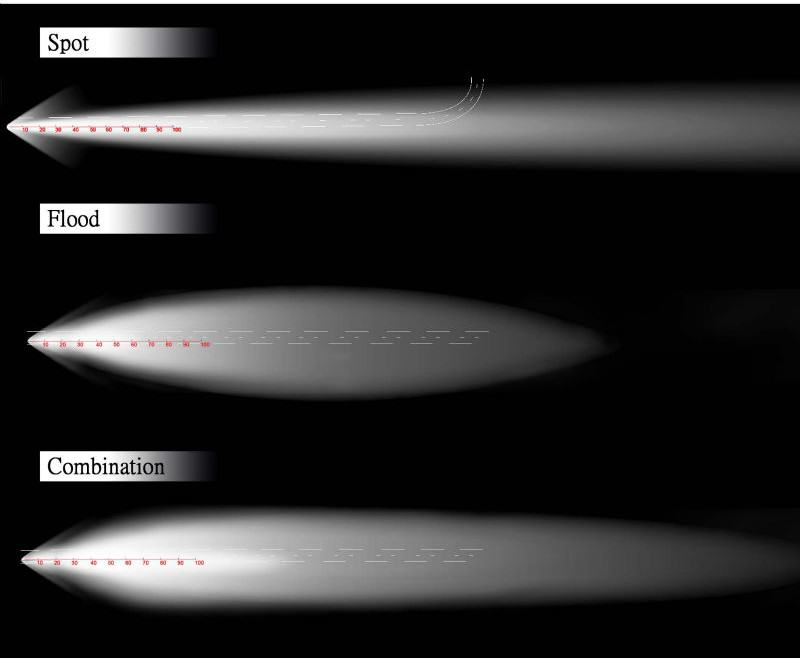 Which type of off road LED light beam pattern would work best for you?
An Off-road Driving Beam, DOT Approved Driving Beam, Spot Beam, Fog Beam, Flood Beam, Diffusion Beam, Scene Beam, or a Combo Beam off-road LED Light or Lights?
Types Of Off-road Light Beams-
Which LED Off-road Light and Beam Configuration Would Work Best for You?
So here is the skinny on the different types of off-road light beam configurations.
If you simply want a set of performance grade driving lights with more power and lighting capabilities, then you would need DOT approved LED lights that are road worthy and legal.
If you plan on ripping down the trails in the middle of the night, then you would probably want to have a combination of multiple off-road LED lights and LED light bars with different beam configurations for maximum visibility. With the proper set up, you should have ample lighting directly in front of your vehicle, around your vehicle, and with a clean wide spread field of view a good distance down the trail.
You should have a solid understanding of the many different options, variations, and configurations of off-road LED lights, there components, specific beam patterns, and their specific functions before you make a purchase. By conducting your due diligence, you should be able to figure out and set your rig or ride up with the best off-road LED light system that fits your specific driving needs. This is why we took the liberty of writing this article, as well as, the other 9 articles in our series of 10; to explain the differences and uses for each type of automotive off-road LED lighting system.
The Off-road LED Light Beam Optical Spectrum Chart–
LED Spot Light Beam: Angle of light beam reflectors and optics-> 10~20 degrees.

This classification of off-road LED light beam patterns can best be described as an intense beam of focused bright light used to penetrate the darkest of nights at long distances for maximum forward visibility while rippin' down the trails. The farther you can see at night, the faster you can go! LED Spot Lights are great for Off road, Municipal, Commercial, Agricultural, and Racing applications.
LED Flood Light Beam: Angle of light beam reflectors and optics-> 40~60 degrees.

Flood Beam: Flood beams create a large wide pattern of light that floods an area with an extremely tall vertical and wide horizontal light beam pattern. These lights are typically used as work lights and back-up lights as to be able to see a broader area at shorter distances. Flood lights spread light out and around your vehicle for greater side visibility. Flood lights work great on Jeeps, 4×4's, ATV's, UTV's, ORV's, work vehicles, etc.
LED Fog Light Beam: Angle of light beam reflectors and optics-> 60-100 degrees.

Most people understand fog lights to be the lights that are installed in the bumper or bottom valance of your vehicle, but sometimes that is not the case. Some people also install fog lights or flood lights in different configurations and set ups, such as on the bumper it self, on a brush guard or bull bar, on the winch, on the a-pillar or on the hood, on the mirror(s) of their vehicle, or even on the roof. Fog lights, traditionally speaking, are meant to be mounted low on a vehicle while offering a beam pattern that is wide spread horizontally, but with a constricted vertical light beam spread. These types of lights are meant to shine low to the ground, underneath your headlights, as the LED fog lights will restrict the blinding illumination caused by any rain drops, snow flakes, or dust particles, allowing the driver to see further and clearer when compared to the likes of a stock headlight system and/or other type of aftermarket off-road LED lighting system. LED fog lights work great on just about any type of vehicle when they are used in place of stock fog lights typically found in your bumper, below your headlights.
LED Combination Light Beam: Angle of light beam reflectors and optics-> Basically, a mix of both the Spot and Flood configuration. With the Combination light system – you get the best of both worlds. Combo beam off-road LED lights are one of the more popular beam patterns used in a wide range of LED lights, and utilized in many different applications for work or play.

LED Driving Light Beam: Angle of light beam reflectors and optics-> 70~90 degrees.

This classification of light beam patterns is fairly self-explanatory as this particular beam is specifically meant for driving. There are several variations of this type of light beam. There is the traditional DOT and SAE approved driving beam for actual ON-ROAD use which projects a round beam of focused light straight down the road with minimal side to side lighting. Then there is the off-road version or recreational LED light driving beam version which is meant for off-road use only, typically a bit brighter and a slightly wider field of view when compared to the DOT approved LED driving light. The last variation of the driving beam configuration would be the driving spread beam which tends to be more of a square beam of light that spreads light a bit further vertically versus that of the DOT approved driving beam. The Driving light systems are designed for producing a focused, pencil-shaped white light to reach far beyond high-beam headlights. Driving lights increase long range visibility at high speeds and provide the added safety when driving on the roads at night.
LED Light Diffusion Beam: Angle of light beam reflectors and optics-> 120 degrees.

Uses a specific type of "cloudy" lens with Flood LEDs that disperse light when you want bright, wide angle and safe illumination close to the light source. This is great for stationary use on the rear of your vehicle and for illuminating a work or camp site.
LED Light Scene Beam: Angle of light beam reflectors and optics-> 120 degrees.

The scene beam pattern throws more light around for maximum side to side visibility. Great for marine applications, snow plowing, and farming equipment. Our premium off road LED lights use an advanced off-road LED configuration to obtain a powerful "wide field of view" cloud of intensely bright light that penetrates the darkest of nights. Our off-road Scene beam LED lights implement a precise group of multiple high powered LED chips coupled with our unique optics and reflector systems beaming out blazing wattage at approximately 120″ both vertically and horizontally. Our proprietary scene beam lights achieve an astounding amount of light output, comparable to a standard dual row LED light bar. Perfect for work vehicles, off-road vehicles, and marine lighting applications.
New Off-road LED Light Beam Systems
There have also been some newer types of off-road LED light beam systems that have recently been introduced to the off-road lighting market. Some of these innovations include interchangeable reflectors and lenses, multi on/off switches for one light to control different beams, and adjustable beam lights which allow you to change the LED lights from spot beam to fog beam by simply twisting the housing of the light.
As you can see, there are many options to take into consideration when it comes to selecting the "perfect" off-road LED lighting set up for your vehicle. As there are several types of light beam configurations to choose from , the same carries over into actual makes and models of off-road LED lights. i.e.- Nox Lux sells a wide selection of off-road LED light in the following makes and models- LED pod lights, dual and single row LED light bars in different lengths, round LED lights, all of which can come in one of the different light beam configurations listed above.
Check out our second article published in our series "The History of Automobile and Off-road Lights" on the different types of off-road LED lights.
Please stand by as we continue to polish up the next article in our series, which is about off-road LED light color temperature.