Memorial Day Savings Event Kicks Off at Nox Lux Now Through Memorial Day!
Save 20% On All Nox Lux LED Lighting Systems Plus FREE Shipping From Now Until Memorial Day 2018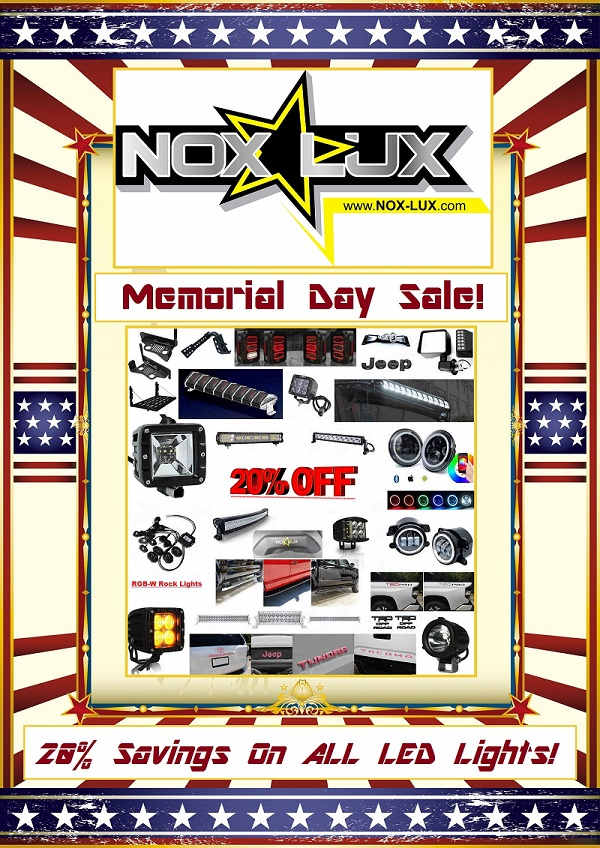 In spirit of the up and coming holiday, Nox Lux, a Boutique On and Off-road Accessory and Offroad LED Light Retailer, Announces Special Memorial Day Sales Event; Offers 20% off All Top of the Line Off-road LED Lighting Systems.
With Memorial Day fast approaching, many people all over the country are preparing for the festivities that typically go hand in hand with celebrating Memorial Day weekend. For off-roaders, Jeepers, rock bouncers, hill climbers, racers, and everyone else in between that enjoy getting out to celebrate the holiday weekend; this usually translates into big events that run from sun up till sun down all Memorial Weekend long.
Tremendous amounts of lights are typically needed to be able to keep the festivities going when the sun goes down, that is where Nox Lux's line up of state of the art off-road LED lights and their exclusive 2018 Memorial Day Sale comes into proverbial "play".
As such, Nox Lux is offering from now until the end of Memorial Day Weekend, 20% 0ff ALL Premium Off-road LED Lighting systems + FREE Shipping to the lower 48!
Use the coupon Code "MemorialDay2018" at check out to claim your extreme savings and FREE shipping!
Take advantage of Nox Lux's Exclusive Memorial Day Sales Event Today!
Multi row offroad LED bars – single row off-road LED light bars – Off-road LED cube lights – Round Off-road LED lights – LED Lights for Boats – LED Lights for Jeeps – LED grille kits for Jeep and Toyota Tundras – LED Light Bar Mounting Kits
Nox Lux
Nox Lux, a cutting edge supplier of high tech, performance grade, on and off-road LED lighting systems and auto accessories, is a premier provider for the Automotive, Off Road, Maritime, Agricultural, Commercial, and Industrial markets. Precision engineered products, meticulously hand-crafted to the highest of manufacturing standards, built with the latest state of the art technologies, materials, and components.
The Nox Lux Team