6 inch LED Light Bars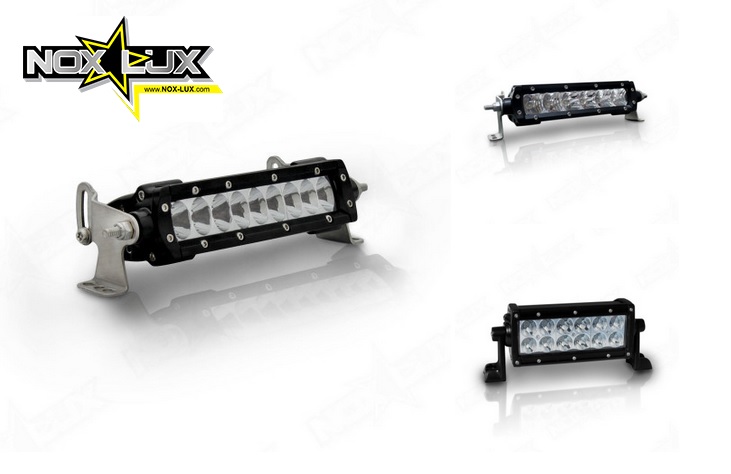 Some of the Best 6 Inch LED Light Bars Your Hard Earned Can Buy!
Nox Lux provides one of the best, brightest, and most affordable off-road LED light bars currently available on the market. We pride ourselves on not only standing behind our premium, professional grade, handcrafted 6 inch LED light bar; but more so other professionals, large companies, on and offroad racers, as well as some of the team at Nox Lux stand behind and use our cutting edge on/offroad, auxiliary, and marine LED lighting systems on their rigs, rides, and vessels.
Constructed using only the finest of materials and components, Nox Lux's 6 inch LED light bars integrate state of the art LED technology, run for an average of 50,000 hours, carry the highest water resistance rating of IP69k, and have surpassed US Military Spec Standards. These are some of the best 6 inch off-road LED light bars that your money can buy, able to take all the punishment that you, extreme weather consitions, or an off-road excursion can dish out.
While there are a tremendous amount of auxiliary LED light retailers, shops, stores, online marketplaces, and manufacturers offering LED light bars for sale, understanding that all LED lights are not created equal and are most certainly not the same, should be one of the biggest points anyone looking to purchase an off-road LED light bar should take into consideration, and then research.
In short, Nox Lux LED lights and LED light bars are the perfect combination of pricing and product offering when you compare to the big boys of the industry!
---
Nox Lux 6″ Dual Row LED Light Bars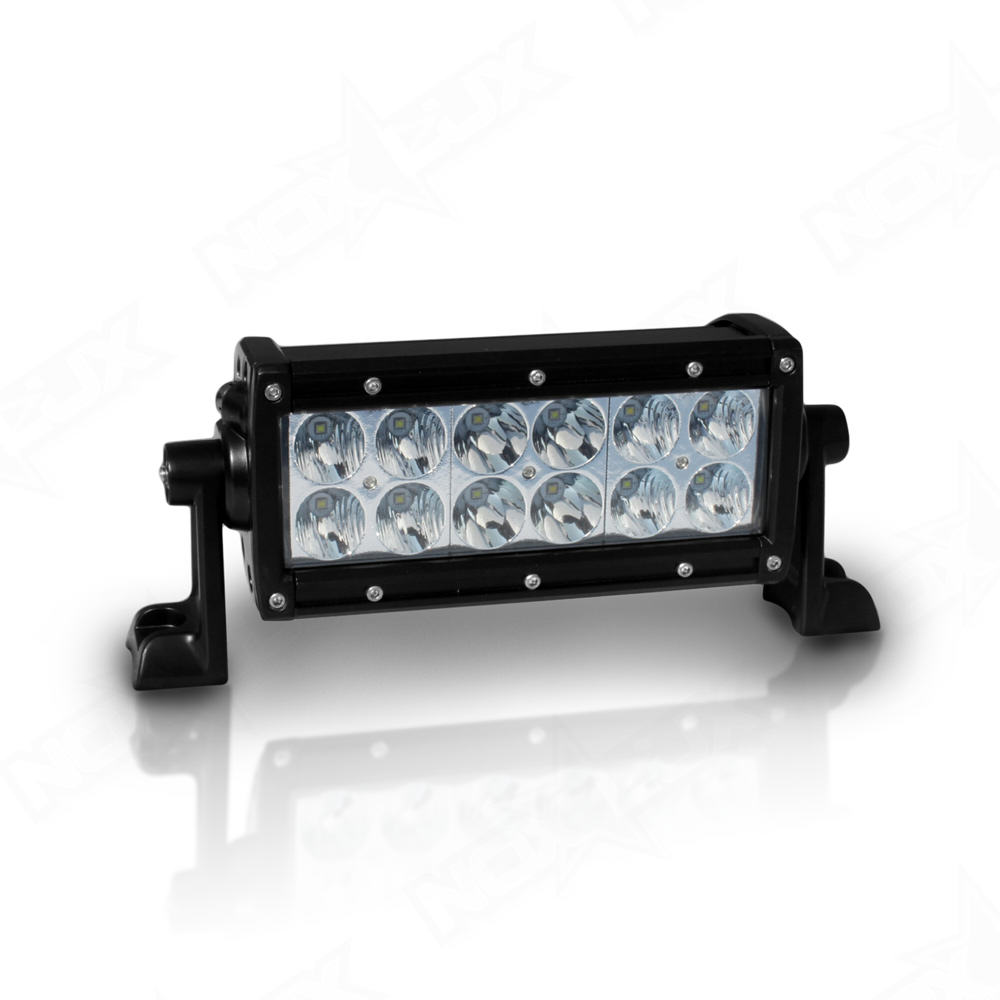 36 Watts
2880 Lumens
500 Meter Beam Throw
Check out Nox Lux's Hyper performance 6″ Dual Row LED Light Bar: low power consumption, Military spec rated, built with cutting edge 3W CREE™ XBD White LEDs pushing out a jaw dropping 2,880 Lumens, capable of projecting a blinding beam of light over 500 meters!
Dual row 6 inch LED light bars
---
Nox Lux 6″ Single Row LED Light Bar
3245 Lumens
670 Meter Beam Throw
Premium 6″ single row LED light bars are for those on and off-road enthusiasts that only want the absolute best for their ride. Our state of the art LED light bars are all top of the line, manufactured with precision, and utilize the latest in off road LED lighting technologies. Perfect for on-road/off-road driving for your Jeep, Toyota 4×4, car, truck, SUV, motorcycle, boat, 4-wheeler, ATV, dirt bike, UTV, lawn tractor, heavy equipment, plus in many other applications.
6 inch single row LED Light bars
---
Nox Lux 6″ Single Row LED Light Bars in Driving Beam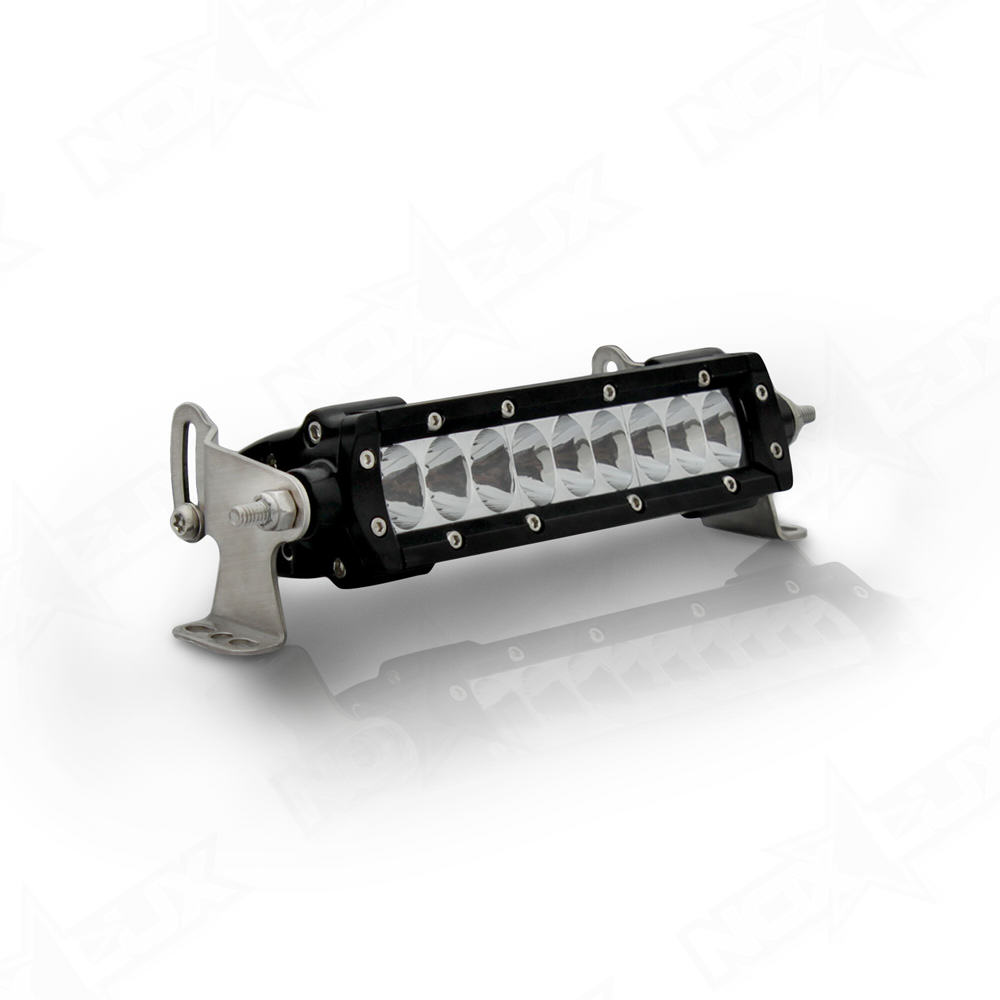 45 Watts
3894 Lumens
440 Meter Beam Throw
Our 6″ Single Row LED Light Bar Driving Beam uses 9 high powered, state of the art, XTE-5W- CREE White LEDs and circuitry, have high quality mirror finish reflectors, all of which are protected by a GE LEXAN lens, and housed in a virtually impenetrable aluminum casing that exceeds military grade specs.
Nox Lux 6″ Single Row LED Light Bars in Driving Beam
---
Nox Lux 6 Inch LED Light Bar Warranty
At Nox Lux, every automotive, auxiliary, or off-road LED light bar we carry is handcrafted to perfection and checked multiple times before even making it to the retail shelves. As such, we stand behind our products; the ruggedness, durability, and reliability of all of our premium grade off-road LED lights, all of which come with an impressive 1.5-2 year manufacturer warranty.
Illuminate Your Next Excursion at the Speed of Light With Nox Lux 6 inch LED Light Bars!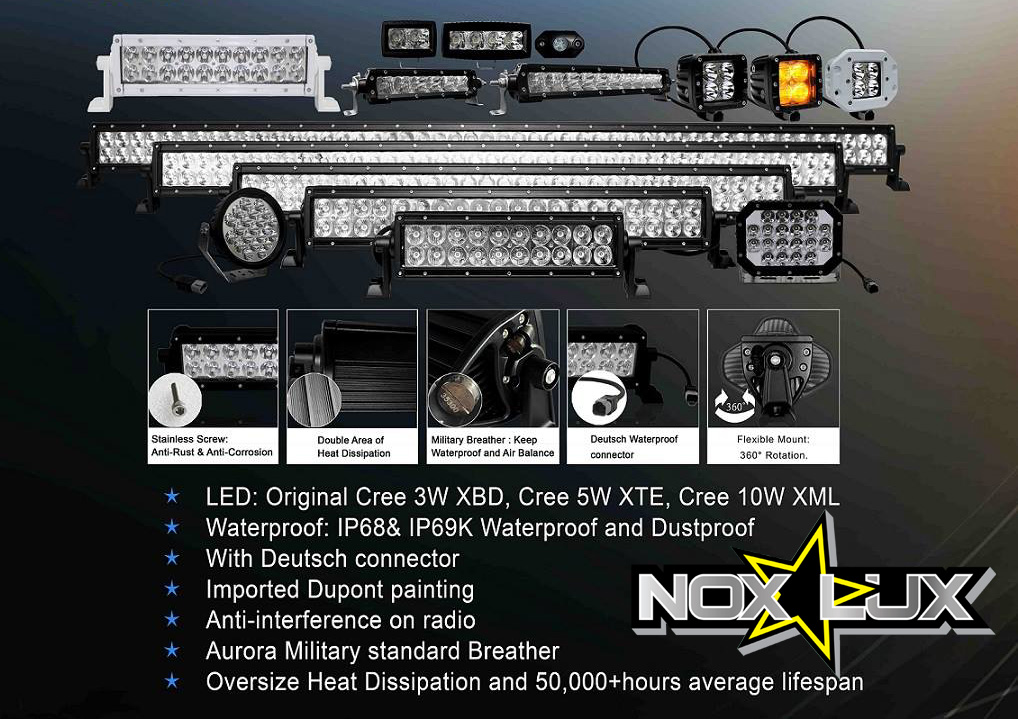 double row offroad LED lights and LED bars – single row off-road LED lights and LED bars – Off-road LED pod/cube lights – Round Off-road LED lights – LED Lights for Boats – LED Lights for Jeeps – LED grille kits for Jeep and Toyota Tundras – LED Light Bar Mounting Kits