Top of the Line on and offroad auto accessories and LED light company, Nox Lux, recently announced participation at Jeep Beach 2018 as a top level sponsor.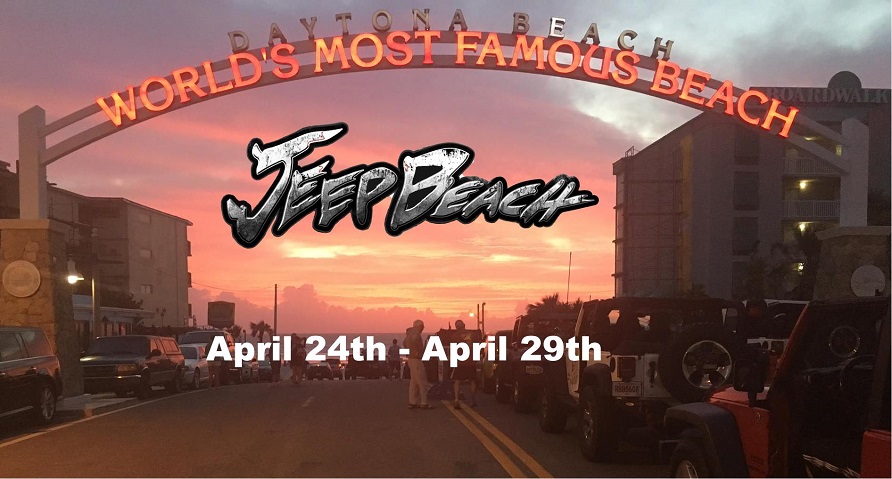 According to the official Jeep Beach website, "Jeep Beach is the largest Jeep only event in the Southeast USA. Over 5 days of fun in the sun with thousands of your closest Jeep friends, Jeep Beach attracts Jeepers and Jeep Industry Vendors from all over the USA, Canada, and even overseas. Jeep Beach is held each April in Daytona Beach, Florida to raise much needed funds for worthwhile local and national charities."
Jeep Beach 2017 Highlights-
As a recap, Jeep Beach 2017 was a HUGE success! Jeep Beach 2017 5 day event generated so many smiling faces on Jeep owners from all over the state, nation, and world.
2749 registered Jeeps participating inside the track
Hundreds more parked outside
Over 19000 Spectators
Five days and Five Nights of events and fun!
2374 Jeeps for the Sunday cruise on the World Most Famous Beach!
Follow Jeep Beach 2018 Updates-
Official Jeep Beach Website
https://www.jeepbeach.com
Official Jeep Beach 2018 Twitter Handle
Tweets by JeepBeach
Official Jeep Beach Facebook Page
https://www.facebook.com/jeepbeachofficial
Official Jeep Beach 2018 Facebook Event Page-
https://www.facebook.com/events/288164698323010/
Do you want or need to purchase some Jeep Mods or LED lights for your Jeep before Jeep Beach 2018???
If so, Nox Lux is offering a special 20% savings on all professional grade off-road LED lighting systems from now until the end of Jeep Beach 2018!
To claim your exclusive Nox Lux savings, please use the coupon code "JeepBeach2018" when checking out.
https://nox-lux.com/product-category/off-road-led-lights/
For more information on Nox Lux's participation with Jeep Beach,
please visit- https://nox-lux.com/jeep-beach/