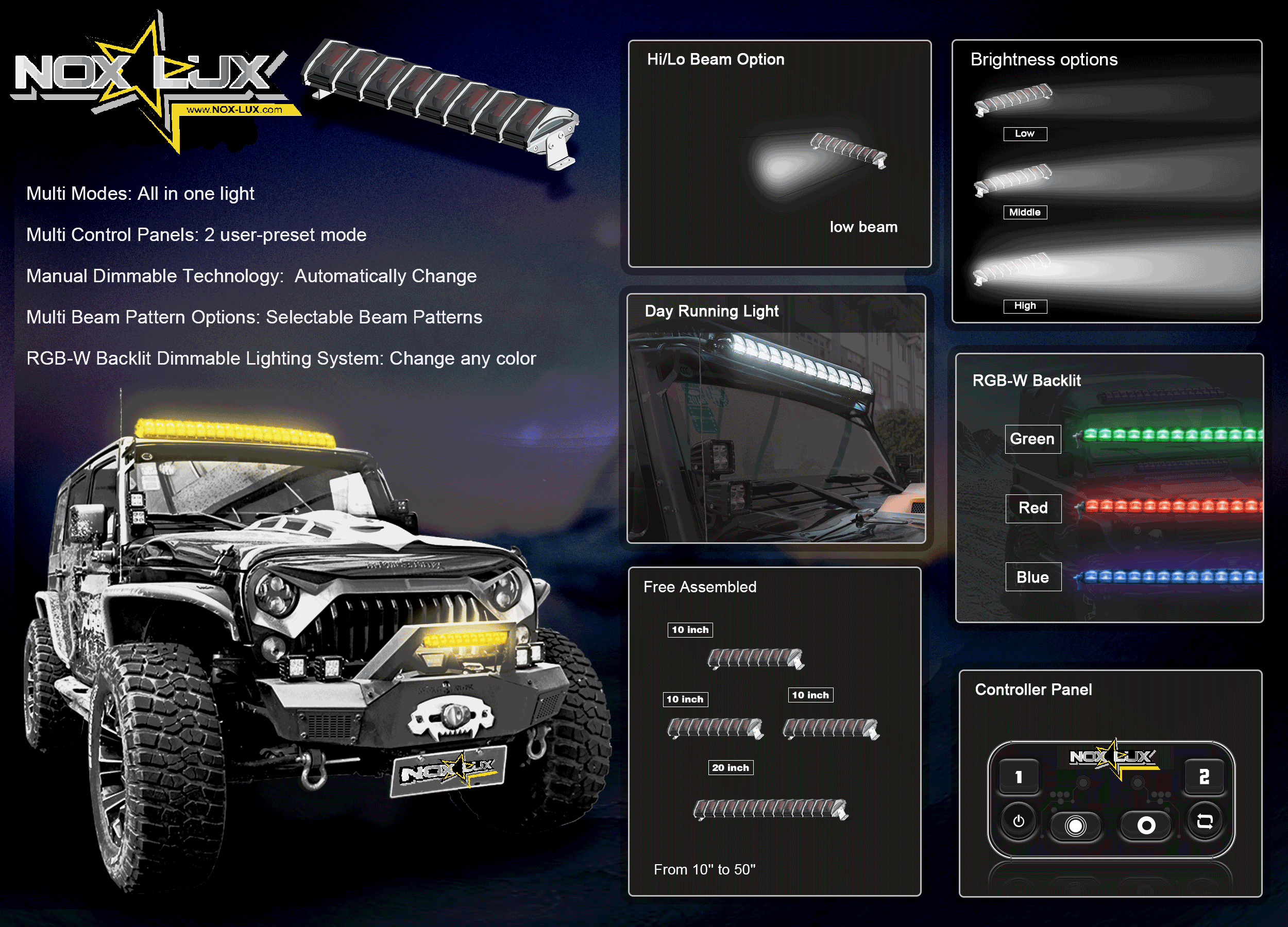 Nox Lux Introduces New Line of Groundbreaking Offroad LED Light Technologies. A Next Generation, Low Profile, Adaptive, Multi-function, Auxiliary, RGB-W Enabled Line of LED Light Bars.
Nox Lux, a premier designer and developer of cutting edge automotive accessories and professional grade on and offroad LED lighting systems, has recently announced the up and coming release of one of the automotive industry's latest auxiliary LED lighting technological breakthrough's; the newest line of adaptive LED light bars from Nox Lux.
Nox Lux's new proprietary line of automotive LED lights are soon to be offered in modular style 10 inch LED light bars, 20 inch LED light bars, 30 inch LED light bars, 40 inch light bars, 50 inch light bars.
Top features of Nox Lux's New State of the Art LED Light Bars-
– Adaptive style lighting- adjustable beam. Multi function light
– Low/Mid/High Beam
– DRL Daytime Running Lights
– New RGB-W Enabled
– Innovative LED Control Panel Touchscreen
– Modular style- Can piece together to make different lengths of LED light bars.
– Mounts, Hardware, Harness
Nox Lux will be receiving their first batch of the new LED light bars this month, along with a number of other types of automotive, auxiliary, offroad LED Lights, Jeep mods, and other automotive and offroad mods and accessories.
Shop Nox Lux Off-road LED Lights and LED Light Bars
Nox Lux's new line up of hot automotive, off-road LED lights, and auto accessories soon to be launched…
RGB-W Rock Lights, RGB Headlights and fog lights, Nox Lux Pink Out Emblem Overlay Kits, New Jeep mods- foot pegs, side steps, Jeep LED brake lights, Jeep side mirror with LED lights, Jeep handle covers, JK tailgate tables, Jeep inner fender covers, 8 pc. RGB-W rock light kits, and New Nox Lux Brake Caliper Covers.
Nox Lux- a Premier Designer, Developer, Manufacturer, and Retailer of High quality, Aftermarket, Off-road LED Lights and LED Light Bars, Black Out Emblem Overlay Kits, Tailgate Inserts, Bed Inserts, Running Boards, Skid plates, Jeep Mods, and Other Automotive Accessories.
The Nox Lux Team