New Nox Lux Product Lines Set to Hit Shelves in Coming Weeks…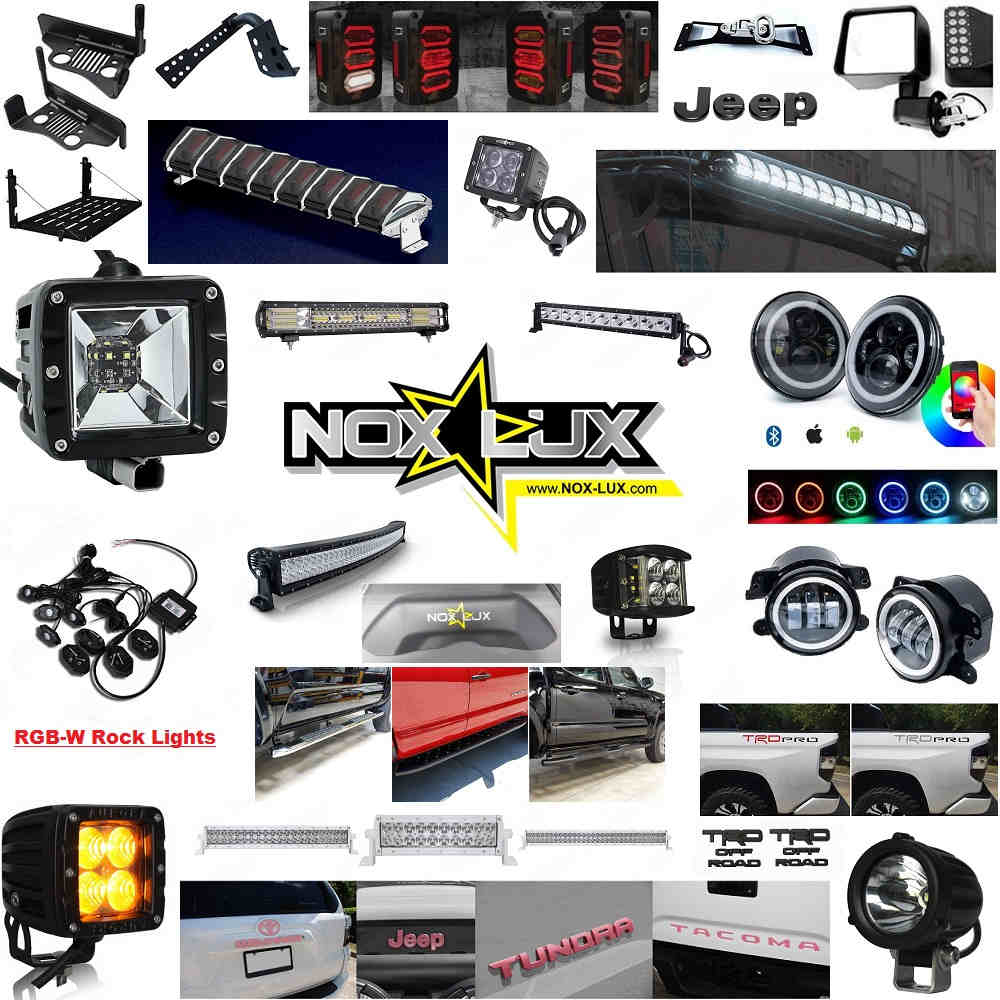 Nox Lux Set to Receive Large Shipment of State of the Art Off-road LED Lights and New Off-road/Auto Accessories.
Innovative auxiliary LED light and automotive accessory company, Nox Lux, recently announced the up and coming addition of the following new lines of Nox Lux branded products- the new automatic adaptive LED light bars, 2 in 1 amber LED cube lights(lights and turn signal), updated line of amber LED cube lights, new 2 inch canon style round LED spot lights, updated line of marine LED lights, a new line of RGB-W rock light kits, new RGB HALO headlights, RGB fog light combo kits, upgraded dual row LED light bars with 5 watt CREE XTE LED's instead of 3 watt CREE XBD LED's.
Nox Lux has also added a new collection of Jeep mods, Jeep accessories, and LED lights for Jeeps. 4 new types of custom Jeep foot pegs, rests, and side steps; Jeep door handle covers, Jeep JK inner fender covers(red and silver), Jeep LED side mirror lights with turn signal, aftermarket Jeep LED grilles, 4-in 1 Jeep JK LED tail lights, Jeep JK tailgate tables, RGB HALO headlights and RGB HALO LED fog lights.
Some of Nox Lux's other proprietary, Made in the USA, product releases include new pink emblem overlay kits for Toyota Tundra, Tacoma,4-runner, Camry, and Corolla, and Jeep Wrangler Jk's and JL's. Nox Lux is also releasing a new line of brake caliper covers for the following Toyota models- Toyota Tundra, Tacoma, 4-Runner, and Jeep Jk and JL's.
Follow Nox Lux on popular social networks to stay up to date with all of the latest product releases, general updates, sales, promos, and giveaways!
Shop all of Nox Lux's performance offroad LED lights, LED light bars, and premium auto accessories!
dual row offroad LED lights and LED bars – single row off-road LED lights and LED bars – Off-road LED pod/cube lights – Round Off-road LED lights – LED Lights for Boats – LED Lights for Jeeps – LED grille kits for Jeep and Toyota Tundras – LED Light Bar Mounting Kits