Aftermarket Auto Accessory and Off-road LED Light Supplier, Nox Lux, Adds New Line of State of the Art Bluetooth RGB LED Rock Light kits in 4 pc. and 8 pc. sets.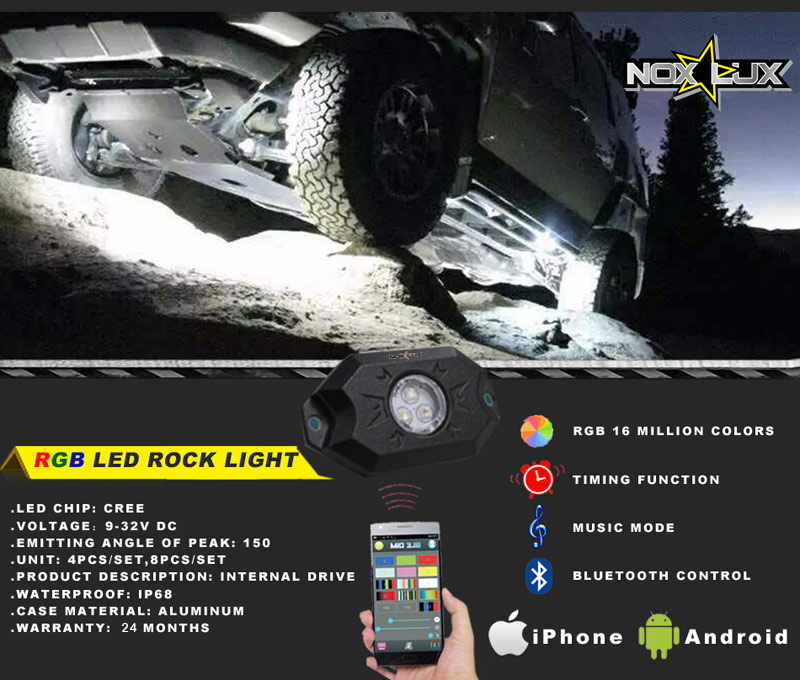 Premium RGB rock light kits, mini rock lights, puddle lights, wheel well lights, under carriage off-road LED lights; or whatever people want to call them these days, are literally a dime a dozen depending on where they are purchased. As there are many different auxiliary, automotive, and off-road LED light manufacturers globally that mass produce extremely cheap quality and cheap priced off-road LED lights and LED bars, the circumstances translate into a difficult situation for consumers that want to buy premium off-road LED lighting systems.
In most cases, this creates a deceptive illusion in regards to the pricing of products. Savvy consumers want quality and performance grade LED off-road lights for the cheapest price possible. Other consumers may want only the very best of offroad LED lighting systems from the big boys in the industry…
Nox lux prides itself on providing high quality products at an affordable price point, especially when it comes to premium grade off-road led lighting systems. As such, Nox Lux has started to release their newly developed branded line of off-road LED Lighting systems to market; the first product; a state of the art, smart bluetooth technology, wireless controlled RGB mini rock light kit in a 4pc. or 8 pc kit.
Nox Lux's All New Branded RGB Rock Light Kit Features-
A 4 pc. kit or an 8 pc. kit.
16 Million Color Choices
Wireless Blue Tooth Connection
Control With iOS or Android Device
Gradual Color Change
Color By Camera
Voice Control
Control By Music
Timed Control On/Off
Vivid Ambient Light
For more information about Nox Lux's new line of state of the art RGB rock light kits, please visit-
https://nox-lux.com/product/wireless-control-2-mini-rgb-led-rock-crawl-light-kit-nox-lux/